Hose Reels – Custom-Made, From Our Own Production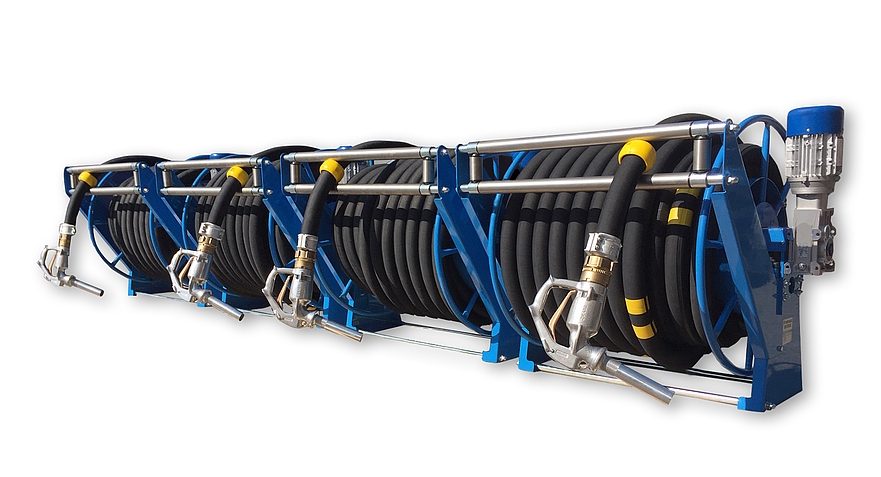 Many Options – Modular Designed to Suit Your Requirements
We have extended our product range with Hose Reels which are custom-made and from our own production. Our Hose Reels are equipped with our hoses, couplings or nozzles, supplied as a complete package.
These packages are commonly used for terminals, road tankers, stationary or mobile refuelling. They are produced to the known high Elaflex quality standard, compliant with CE regulations and meet with European health, safety and environmental standards.
The Hose Reel types are available with different rewind systems: manual – spring – motorised (electric, hydraulic or pneumatic). Suitable for a wide range of media, e.g. gasoline, diesel, aviation fuels, urea solution ( AdBlue®), detergents, solvents, oils, water, gases and others.
They can be built to hold hose sizes from DN 13 to 200 and any length. Depending on the hose configuration and available space, all Hose Reel versions are fully customisable in dimensions, colours, materials and positioning in order to satisfy customer's specific requests.






high quality standard, longevity
many options, modular designed to suit your space, media and requirements
delivery as complete, tested, system including hoses, couplings and nozzles
economical pricing
short lead times
As a complementarity product to the ELAFLEX product range, we have been successfully providing installations in different fields such as stationary or mobile refuelling, bunkering / marine, aviation, LPG, chemicals, defence and fire fighting.